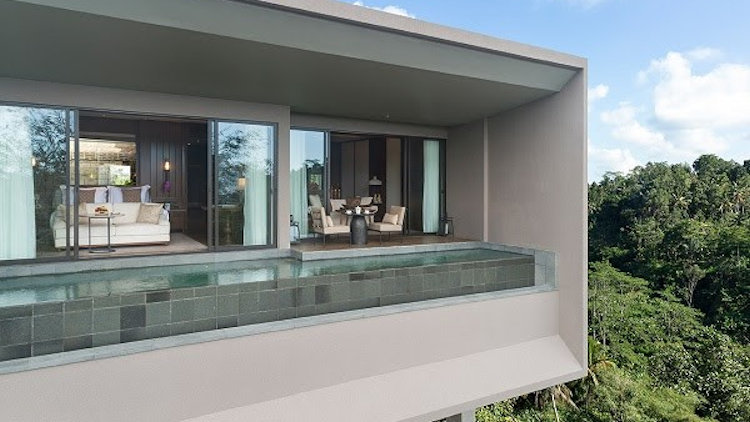 The exclusive development is scheduled to open in mid-2022; it is the brand's third resort on the popular Indonesian island of Bali.
Ubud is well-known as the center of Balinese culture and home to many of the region's artisans. Its rainforest and terraced rice fields, dotted with Hindu temples, are among Bali's most iconic and spectacular scenery. Located in the traditional hillside village of Payangan, a 1.5-hour drive from Bali's international airport and 35 minutes from the centre of Ubud by car, Anantara Ubud Bali Resort brings Anantara's unique brand of luxury to the island's lush jungle center.
Guests can choose from 85 beautifully appointed guest rooms and one and two-bedroom pool villas, each a calming haven of serenity inspired by the culture and traditions of the locale. Those who would like to stay longer have the opportunity to own their own slice of paradise with a choice of 15 Anantara residences, all featuring the comfort and quality Anantara is renowned for.
Guests and residents can choose from several restaurants offering sustainable local and international cuisine. Locally sourced organic produce from the lush hills surrounding the resort will be served directly from farm to table. Nutritionally healthy menus will also be on offer to increase energy levels before a day spent exploring the island. Romantic 'Dining by Design' experiences in and around the resort with a private chef also offer unforgettable holiday memories.
The best in facilities and amenities, including an infinity swimming pool, a gym and fitness facility, as well as state of the art meeting spaces are also available to ensure productive stays in stunning lush surroundings.
Those leaning towards less strenuous pursuits will be well catered for at the all-encompassing spa equipped with single and couples' treatment rooms, foot massage pods and a hair salon. Visiting wellness practitioners will offer a range of holistic Balinese treatments that encompass the spiritual surroundings, offering total rejuvenation. A dedicated kids' and teens' clubs will keep the younger guests occupied with a range of engaging activities tailored to the interests of different age groups.
The resort's design, by EDC International Sdn. Bhd, is inspired by the study of local vernacular architecture that is influenced by Hindu traditions and juxtaposed with Javanese elements, all interpreted into a contemporary silhouette. Natural, native materials have been used in harmony with the environment, symbolic of an authentic experience of hillside village dwellings that are unique to Ubud.
Beyond the resort, guests will find the breathtaking beauty of the island's top attractions nearby, including the Hanging Gardens, the famed rice terraces, the Puri Saren Royal Palace and Bali's famous Seminyak Beach just a day trip away.
For more information on Anantara Hotels, Resorts & Spas, please visit www.anantara.com. (Luxurytravelmagazine)