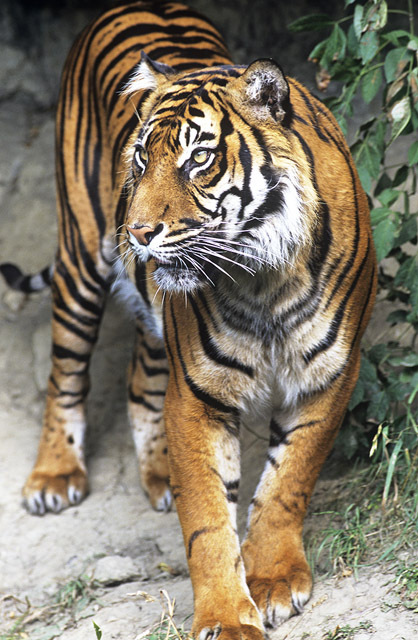 WWF Urges Barito Pacific and APP to Halt Plans to Clear Forest
World Wildlife Fund (WWF) today released rare
video
footage of three Sumatran tiger cubs playfully chasing leaves in the forests of the Bukit Tigapuluh landscape in Indonesia. Over the span of just two months, video and camera traps recorded images of 12 tigers – including two mothers with cubs – in an area of 184 square miles, a significant concentration in Sumatra. There are estimated to be only around 400 of the critically endangered Sumatran tigers left in the wild.
The tigers in the videos were filmed in the forests of the Bukit Tigapuluh landscape, or "Thirty Hills." This landscape is designated a "global priority Tiger Conservation Landscape," and is one of six landscapes the government of Indonesia pledged to protect at last November's tiger summit of world leaders in Russia. Home to more than 30 tigers, 150 Sumatran elephants and 130 orangutans, the Bukit Tigapuluh landscape is under imminent threat of being cleared by the pulp and paper industry.
"It's really great to see that tigers are continuing to breed in the Bukit Tigapuluh landscape," said Dr. Barney Long, Manager of the WWF-US Tiger Program. "This is a critical landscape for tiger conservation, and one that is rapidly being cleared by companies to produce pulp and paper. We need to protect this forest landscape and the corridor that connects it to other tiger populations in order to save these magnificent animals, as well as the many services that the forests provide for the indigenous communities that call it home."
The areas of the central Sumatran forests where these tigers are concentrated are also prime targets for pulp and paper companies like Barito Pacific Group and Asia Pulp & Paper/Sinar Mas Group (APP/SMG). Both companies have permits pending to clear the forest. Prominent conservation, animal welfare and human rights groups, including WWF, have urged the two companies and the Indonesian government to protect these forests instead of allowing them to be cleared.
Read more..
Video
More Tiger pictures